CH25 Chair by Hans J Wegner for Carl Hansen & Sons
Great example, perfect cord and nicely aged Oak.



Dimensions
71cm Wide x 73cm Deep x 73cm High

Price £2250.00
Barcelona Chair in Off White Leather by Ludwig Mies van der Rohe for Knoll International

a very good example by Knoll, has Knoll fabric beneath the seat cushion, but no engraved signature on the base, so a slightly earlier model, but in great original condition.


Dimensions 81cm High x 76cm Wide x 80cm Deep


Price £1650.00

CH25 Chair by Hans J Wegner for Carl Hansen & Sons
Great example, perfect cord and nicely aged Oak.



Dimensions
71cm Wide x 73cm Deep x 73cm High

Price £2250.00
CH25 Chair by Hans J Wegner for Carl Hansen & Sons

Great example, perfect cord and nicely aged Oak.



Dimensions
71cm Wide x 73cm Deep x 73cm High

Price £2250.00

Original 'Papa Bear' Chair and Footstool by Hans J Wegner for A.P Stolen

Immaculate chair and footstool, with top quality upholstery, and nicely patinated Oak legs and arm pieces, the chair was designed in 1950, and we would guess this one poduced around 1960.

Dimensions
Chair 101cm High X 92 cm Wide X 90cm Deep

Stool 44cm High x 71cm Wide x 48cm Deep


Price £9750.00 the set
Pale Cognac Leather Egg Chair and Ottoman by Arne Jacobsen for Fritz Hansen

A really beautiful example in the most sought after colour, nicely aged patina to the leather but very few blemishes, absolutely no rips or tears, and soft foam, both in the chair and the cushion.
The photos do not do this piece justice, it needs to be seen !

Dimensions

104cm High x 83cm Wide x 79cm Deep


Price £6750.00

Cognac Leather Swan Chair by Arne Jacobsen for Fritz Hansen

A great example, in good original condition, with a nice patina on the cognac leather, no rips or tears, some signs of use, as one would expect from a chair that is 50 plus years old, but foam is still good under the leather.


Dimensions
75cm high x 72cm wide x 66cm deep


Price £2250.00
Cognac Leather Swan Chair by Arne Jacoben for Fritz Hansen

A great example, in good original condition, with a nice patina on the cognac leather, no rips or tears, some signs of use, as one would expect from a chair that is 50 plus years old, but foam is still good under the leather.


Dimensions
75cm high x 72cm wide x 66cm deep


Price £2250.00

4801 Chair by Joe Colombo for Kartell

An early example of this bent ply lounge chair, they were produced for a short time from 1963/4 and all numbered, this on is number 21 stamped on each of the three pieces that make up the chair making it most likely from the first year of production. It is in its original white painted finish, with some expected signs of wear, but a great vintage piece still very useable !


Dimensions 70 Wide x 65cm Deep x 65cm High


Price £2200.00

Pair of Black Leather and Chrome 'Lemon Sole' Chairs by Kwok Hoi Chan for Steiner

A great pair of these super cool low lounge chairs in superb condition.

Dimensions

Height 62cm x Depth 82cm x Width 82cm


Price £2250 the pair

Pair of William Plunkett small 2 Seat Sofas

Freshly upholstered in a bright red wool fabric


Dimensions
H 68Cm X D 65Cm X W 120 Cm

Price £575.00 each or £1000.00 for the pair


CH27 Chair by Hans J Wegner in Oak and Cane

This one is in very good condition, the seat has been recently re-caned, so until it has been sat in for a while there is a slight difference in the colour of the seat compared to the back.


Dimensions


72cm Wide X 75cm Deep X 77cm High

Price £ 2400.00

Red Targe Chair by Klaus Uredat

Nice example of this cool lounge chair in good original condition.


Dimensions 6ocm High x 81cm Wide X 95cm Deep


Price £975.00

Original Vintage Plycraft Cherner Armchair
Original vintage Cherner Armchair for Plycraft


Price £1650.00


Dimensions 54cm deep x 48cm width 80cm high
Original Vintage Plycraft Cherner Armchair
Original vintage Cherner Armchair for Plycraft


Price £1650.00


Dimensions 54cm deep x 48cm width 80cm high
Original Vintage Plycraft Cherner Armchair
Original vintage Cherner Armchair for Plycraft


Price £1650.00


Dimensions 54cm deep x 48cm width 80cm high

Original Vintage Plycraft Cherner Armchair

Original vintage Cherner Armchair for Plycraft

Dimensions 54cm deep x 48cm width 80cm high

Price £1650.00

Original Vintage Ernest Race Antelope and Gazelle Patio Set

Great original suite comprising 2 seat sofa, three arm chairs and table, all in very good condition.


Dimensions

Table 71cm diameter x 70cm high
Sofa 104cm wide x 80cm high x 40cm deep
Chair 54cm wide x 80cm high x 40cm deep


Prices

Antelope Chair £275.00 each
Antelope Sofa £975.00
Gazelle Table £ 475.00

or complete suite £2000.00

Pair of Black Leather Egg Chairs and Stools by Arne Jacobsen for Fritz Hansen 1967

Beautiful classic chairs and stools in black leather and in great condition.



Dimensions


Price £13750.00

Pair of High Back Oak GE530 Chairs with Ottomans by Hans J. Wegner for Getama

Immaculate pair of these very comfortable lounge chairs with matching footstools, freshly recovered in quality fabric.


Dimensions Chair 91cm High x 78cm Wide x 74cm Deep Seat Height 43cm
Ottoman 36cm High x 73cm Wide x 60cm Deep


Price for set £2750.00

Very Rare Danish Walnut 'Butterfly' Dining suite by Kurt Ostervig for Brande Mobelindustri

Stunning extending circular Walnut Dining Table with 6 Original Butterfly Chairs, the chairs are made from solid Walnut, and all pieces carry the mark of Brande Mobelindustri. The chairs would appear to have the original fabric, although they are very simple to recover, and we can supply them in a colour of your choice.The table comes with two leaves one folds and stows beneath the table, the other is full width.
All pieces are in extremely good condition.

Dimensions

Table Closed 120cm Diameter X 70cm High
with one leaf 170cm
with two leaves 220cm

Chairs 48cm wide x 49cm deep x 79cm high, seat height 43cm

Price for the set £9750.00





3 Seat Sofa and Pair of Lounge Chairs by Greta Jalk in Teak

A super suite in great condition, currently with original cushions upholstered in green, however if you wished to have them in a colour of your choice, we can have new covers made. If you supply the fabric we can recover for an additional £350.00


Dimensions
Sofa 190cm wide x 65cm deep x 72 High
Chair 65cm wide vx 65cm deep x 72 High


Price £2950.00 for the suite

Sofa alone £1650.00

Pair of chairs alone £1650.00

Pair of Leather and Chrome Falcon chairs and coffee table by Sigurd Ressell for Vatne Mobler
Nice original set of 2 falcon chairs in leather and chrome with matching natural slate topped coffee table

Dimensions Chair 81cm H x 78cm W x 75cm D Table 49cm H x 90cm Dia

Price for the set £3100.00

for the pair of chairs £2750.00

for one chair £1500.00

for the table £550.00
Set of 4 Danish Rosewood and Chrome barstools.
Great quality set of four Rosewood high stools, each with solid Rosewood legs with chrome footrests, and with Danish Furniture control mark.

Dimensions 78cm High x 36cm Dia

Price £2200 for the set
Pair of Alf Svensson High Back Kontur Chairs for Fritz Hansen

Pair of the classic high back version of Svensson,s 1957 design, adjustable to either upright or reclined, totally refinished to highest quality


Dimensions 94cm x 72cm

Price £1650.00 for the pair

Set of 4 Rosewood Dining Chairs by Kai Kristiansen for Magnus Olesen

Very clean set of 4 Danish Rosewood dining chairs, with black drop in seats.


Dimensions

Price £775.00 for the set.

Original William Plunkett Sofa

This one is the 5 foot version, but we have several others 6 foot and a couple of very long (8foot plus)


Dimensions


Price £375 each

Verner Panton Wire Cone Chairs for Fritz Hansen.

Very nice original set of wire cones in chrome and black woolen fabric, in great condition.


Dimensions

Price £650.00 each or £2200.00 the set

Herds of faux animal skin stacking chairs.

Currently available in any quantity up to 20.
We have these upcycled period danish stacking chairs available in Snow Leopard, Tiger, Cow or Zebra skin patterns.

Price £50.00 each, £180 for 4 or £40 each in quanities over 4

Early second edition Pierre Paulin model F545 'Big Tulip'armchair for Artifort C1965

Very nice early original freshly upholstered.

DImensions 94 x 79 x 87

Price £1850



Lotus, Black plastic shell with ribbed vinyl upholstery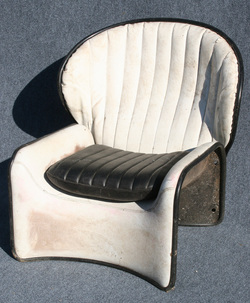 Swiss Lounge chair by Strassle C 1960

---
Prototype chair from Peter Qvist

This was the prototype for a very small edition (50 of each colour) of this stunning chair, designed and produced at PQL Studios.

Dimensions 114cm x 108cm x 65cm

Price £1750.00

Yew wood bench/stool by Reynolds of Ludlow

Typical piece of reynolds furniture, still bearing original brass label beneath.

Dimensions

Price £225.00

Very nice set of 4 Original Stacking chairs by Verner Panton for Herman Miller/Felbaum C1973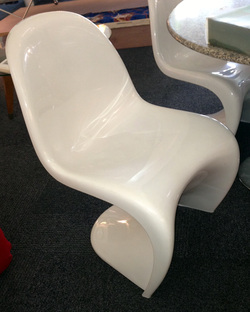 Set of four of the most sought after versions of this classic chair, all in great condition, still very white and no yellowing, all stamped and dated beneath.

Dimensions
Height 82cm

Width 48cm

Depth 55cm

Price £1200.00 the set.


---
Original Pastil Chair by Eero Aarnio

A very nice example, in great condition of this cool chair you can float in your swimming pool, ride down the Cresta run, or simply sit in !

Dimensions

Height 55cm

Diameter 100cm

Price £975.00
Lady Chair by Marco Zanuso for Arflex
Classic Lady chair by Marco Zanuso for Arflex, in yellow Eames small dot fabric, in very good condition.


Dimensions H78cms X W78cms X D78cms
Price £1450
Scarce Djinn double stool by Olivier Mourgue for Airborne
As all of our Djinn Pieces, totally restored and covered in new foam and fabric to comply with current safety regulations.

Dimensions

Price £975.00
Djinn stool by Olivier Mourgue for Airborne
Original Djinn stool recovered in new foam and fabric to comply with current safety regulations

Dimensions

Price £475.00
Djinn Chaise by Olivier Mourgue for Airborne

Djinn Chaise by Olivier Mourgue for Airborne. Recovered in new red Jersey to the original spec. and in perfect condition.


Dimensions
Price £ 1575.00

---
Djinn Sofa by Olivier Mourgue for Airborne
Djinn Sofa by Olivier Mourgue for Airborne. Upholstered in red Jersey, as the above chaise, cool, comfortable and stylish!
Designed in 1964


Dimensions
Price £1495.00
Djinn Chair by Olivier Mourgue for Airborne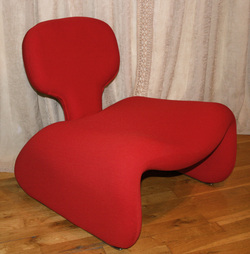 Single Djinn Chair by Olivier Mourgue for Airborne without arms (the most sought after version from Space Odysee 2001 !) Original frame recovered in new red stretch Jersey to the original specification, so in A1 condition.


Dimensions
Price £975.00

---
Tulip Chair by Laverne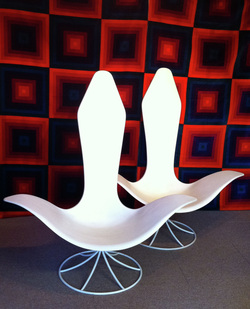 Rare pair of Tulip or Petal Chairs by Irwin and Estelle Laverne for Laverne International. These two are in very good condition, no cracks or holes, some small discolouration, as you would expect after 40+ years, but it certainly doesn't distract from their beauty. This pair were bought together new in the late 1960's, but we would consider splitting them at the right price!


Dimensions H127cms X W117cms X D81cms (approx)
Price for the pair £6250.00

---