Pair of Lounge Chairs by Alf Svensson for Fritz Hansen

Pair of Elm Lounge chars by Alf Svensson for Fritz Hansen C 1957, in great condition.


Dimensions

Price £950.00

Lamino Chair by Yngve Ekstrom for Swedese

Nice early example of this classic chair


Dimensions

Price £650.00

Danish Rosewood Dressing Stool

Fabulous solid Rosewood stool


Dimensions 57cm x 39cm (seat height)


Price £ 225.00

Pair of Danish Mid-Century Lounge Chairs and Ottoman

Really comfy, stylish pair of Danish mid-Century armchairs with an ottoman, all in imacculate condition.


Dimensions


Price £ 2750.00 for the set

Original Eames Lounge Chair and Ottoman, 670 & 671, in Rosewood and Leather for Herman Miller

A really good original example in chocolate brown leather, produced by Herman Miller C1975. Retains all the original labels as you can see in the photos. There are a few small cat marks on one arm, also as shown, but this does not affect the fact that this is a beauty ! The leather is still soft, and shows no signs of cracking.


Dimensions

Price £4750.00

Steen Ostergaard 'President' or 'Meteor' chair and stool for Cado

A very scarce, and very cool chair and stool. This is one of the most Iconic pieces from the 70's Space age design era, and in fact one was used on the set of Star Treks 2 and 3


£2750.00

H89cms X W86cms X D81cms


---
Original William Plunkett Sofa

This one is the 5 foot version, but we have several others 6 foot and a couple of very long (8foot plus)


Dimensions


Price £375 each

Verner Panton Wire Cone Chairs for Fritz Hansen.

Very nice original set of wire cones in chrome and black woolen fabric, in great condition.


Dimensions

Price £650.00 each or £2200.00 the set

'Grasshopper' chair by Kastholm and Fabricius for Alfred Kill

Really cool example of one of the most sought after pieces of classic design.
Hopefully the photos show all you need to see, but any questions feel free to email or call !


Dimensions


Price £10750.00

Pair of Kastholm and Fabricius model 6720 armchairs in Cognac Leather for Alfred Kill

Very nice pair of these popular comfortable and stylish armchairs in cognac leather.

Dimensions

Price £6750.00 the pair

CH25 chair in Oak and Papercord by Hans J Wegner for Carl Hansen & Sons

Dimensions 70cm x 70cm x 70cm

Price £1650.00

Herds of faux animal skin stacking chairs.

Currently available in any quantity up to 20.
We have these upcycled period danish stacking chairs available in Snow Leopard, Tiger, Cow or Zebra skin patterns.

Price £50.00 each, £180 for 4 or £40 each in quanities over 4

Pair of Danish black leather swivel armchairs and ottomans

Super comfortable pair of stylish lounge chairs.


Dimensions


Price £495.00 for the pair

Early second edition Pierre Paulin model F545 'Big Tulip'armchair for Artifort C1965

Very nice early original freshly upholstered.

DImensions 94 x 79 x 87

Price £1850



One pair of Orange Slice Chairs by Pierre Paulin for Artifort.

Really nice mint pair of Slice chairs by Pierre Paulin for Artifort, both with original metal labels, upholstered in bright orange wool fabric.

Dimensions W 85cm X D 85cm X H 75cm

Price for the pair £1650.00



Lotus, Black plastic shell with ribbed vinyl upholstery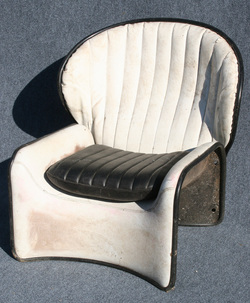 Swiss Lounge chair by Strassle C 1960

---
Prototype chair from Peter Qvist

This was the prototype for a very small edition (50 of each colour) of this stunning chair, designed and produced at PQL Studios.

Dimensions 114cm x 108cm x 65cm

Price £1750.00

Yew wood bench/stool by Reynolds of Ludlow

Typical piece of reynolds furniture, still bearing original brass label beneath.

Dimensions

Price £225.00

Very nice set of 4 Original Stacking chairs by Verner Panton for Herman Miller/Felbaum C1973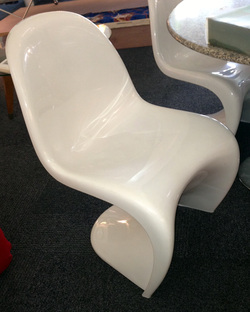 Set of four of the most sought after versions of this classic chair, all in great condition, still very white and no yellowing, all stamped and dated beneath.

Dimensions
Height 82cm

Width 48cm

Depth 55cm

Price £1200.00 the set.


---
Original Pastil chair by Eero Aarnio for Adelta C1969

A very nice example, in great condition of this cool chair you can float in your swimming pool, ride down the Cresta run, or simply sit in !

Dimensions

Height 55cm

Diameter 100cm

Price £975.00



---
Original Ball chair by Eero Aarnio for asko
C1969

1st Edition Ball or Globe chair in very nice condition white shell and recovered in Red Wool fabric. new foam.

Dimensions

Height 130cm

Diameter107 cm

Price £2750,00

N.B. Please be aware the smallest width of opening required for a ball chairs is approx. 82 cm


---
Good quality original set of 6 Danish Rosewood dining chairs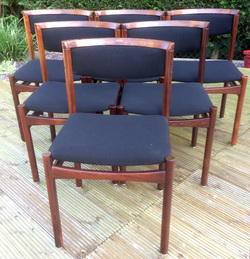 Typically Danish quality, solid Rosewood chairs, sturdy, comfortable yet stylish.
Made by Sax of Denmark in the late 1960's

Now freshly recovered in black wool fabric.

Dimensions

Price Set of 6 £1650.00

---
Lady Chair by Marco Zanuso for Arflex

Classic Lady chair by Marco Zanuso for Arflex, in yellow Eames small dot fabric, in very good condition.


Dimensions H78cms X W78cms X D78cms
Price £1450

---
Scarce Djinn double stool by Olivier Mourgue for Airborne

As all of our Djinn Pieces, totally restored and covered in new foam and fabric to comply with current safety regulations.

Dimensions

Price £975.00

---
Djinn stool by Olivier Mourgue for Airborne

Original Djinn stool recovered in new foam and fabric to comply with current safety regulations

Dimensions

Price £475.00

---
Djinn Chaise by Olivier Mourgue for Airborne

Djinn Chaise by Olivier Mourgue for Airborne. Recovered in new red Jersey to the original spec. and in perfect condition.


Dimensions
Price £ 1575.00

---
Djinn Sofa by Olivier Mourgue for Airborne

Djinn Sofa by Olivier Mourgue for Airborne. Upholstered in red Jersey, as the above chaise, cool, comfortable and stylish!
Designed in 1964


Dimensions
Price £1495.00


---
Djinn Chair by Olivier Mourgue for Airborne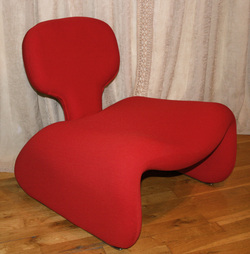 Single Djinn Chair by Olivier Mourgue for Airborne without arms (the most sought after version from Space Odysee 2001 !) Original frame recovered in new red stretch Jersey to the original specification, so in A1 condition.


Dimensions
Price £975.00

---
Tulip Chair by Laverne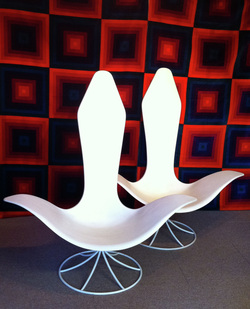 Rare pair of Tulip or Petal Chairs by Irwin and Estelle Laverne for Laverne International. These two are in very good condition, no cracks or holes, some small discolouration, as you would expect after 40+ years, but it certainly doesn't distract from their beauty. This pair were bought together new in the late 1960's, but we would consider splitting them at the right price!


Dimensions H127cms X W117cms X D81cms (approx)
Price for the pair £6250.00

---