Rosewood Desk by Thorben Valeur and Henning Jensen.

Rosewood Desk by Thorben Valeur and Henning Jensen in great condition

Dimensions 155 W x 70 H x 75 Deep

£ 2750.00.

Rosewood 'Model 70' Desk by Kai Kristiansen for Feldballes Mobelfabrik

A beautiful executive desk, 6 drawers on one side and a pair of cupboards on the other, all in very nice condition.

Dimensions 72cm High x 85 cm Deep x 172 cm Wide

Price £5750.00

Large Rosewood and Chrome Desk by Finn Juhl

A stunning large and impressive Executive desk from Finn Juhl.
As far as we can find, this seems to be a special order in this three drawer arrangement. There was one other identical but 2 drawers we discovered online, so it is very possibly a unique version.
It is in very good condition, and ready to grace your mid century home or work office.

To give you a better idea of size, the carcass is 12cm from top to bottom and the drawers are 50cm wide and 75 cm deep,

Overall Dimensions 162cm Wide x 82 cm Deep x 76 cm High

Price £7000.00

Circular Rosewood Table by Luigi Massoni

This is a stunning example, the unmarked Rosewood on the top is beautiful, and the design and manufacture of the segmented diablo shaped base is stunning.we have looked hard and the only other ones we have found are not in the same class as this one !

Dimensions
Diameter 130 cm x Height 69 cm

Price £11750.00

Very unusual Bent Teak Plywood Single Drawer Table

This is one we have definitely never seen before, it has a top and sides all made from one sheet of bent ply and the corners cut out to take the turned solid Teak legs.
If anyone knows the designer/manufacturer we would love to know, although we feel it could well be a prototype that didn't make it to production possibly either way it certainly has some age and we would guess at late 50's or early 60's

Dimensions 104 cm Wide x 63 cm Deep x 70 cm High

Price £875.00

Rosewood Escretoire/Upright Desk Model 69 by Arne Wahl Iversen for Vinde Mobelfabrik

Super piece of Scandinavian modern furniture, lots of storage with the drawers and a good writing area when the flap is down.

Dimensions Height 110 cm x Width 128 cm x Depth 42 cm

Price £1750

Rare Solid Rosewood Side Table by Frits Henningsen.

A beautiful and rare piece by cabinet maker/designer Frits Henningsen produced in solid Rosewood, and in the antique Chinese style.
There is a small split in the top which in no way detracts from this rare piece. We prefer to leave it totally original, but it could be repaired if you wanted to.
Under the top is an imprinted 'B & A' and '1975' which we presume is the catalogue or model number because this piece was probably produced in mid 50's.

Dimensions
99cm wide x 38cm deep x 51cm high

Price £750.00

Small Square Rosewood Coffee Table by Finn Juhl for France & Son

A really good example of this unusual model coffee table, all in great condition as you can see from the photos

Dimensions 70cm square x 45cm high

Price £975.00

Walnut Desk by Jens Risom

Very nice original Jens Risom designed desk in fantastic original condition !

Dimensions
73cm High x 157 cm Wide x 85 cm Deep

Price £2500.00

PK53 Writing Table by Poul Kjaerholm for Rud Rasmussen.

A totally original table designed by Poul Kjaerholm for Rud Rasmussen, the top in fine Oregon Pine and the base of painted steel, all in fantastic original condition for a piece from the 1950's

Dimensions Width 173cm x Height 71 cm x Depth 109 cm

Price £2750.00

Original Red Ilumesa Light up Coffee Table by Verner Panton for Louis Poulsen

A very nice original red version in good working condition and with original safety label and Louis Poulsen label

Dimensions 37 cm high x 72 cm Diameter

Price £2500

Danish Rosewood and Copper Low Hall Table and Mirror

A cool MId Century Hall set consisting of a low single rawer side table and matching long mirror


Dimenbsions
Table
53.5 cm Wide 33 cm Deep 45 cm High

Mirror 106cm High x 52.5 cm Wide

Price
£575.00 the set



Large Pale Teak Coffee Table by Johannes Andersen

A long coffee table in a golden teak, with a small serving tray pull out on one end, in tip-top condition.

Dimensions

168cm Long x 62cm deep x 50cm Heigh

Price £375.00

Nest of 3 Teak Tables by Jens Quistgaard

An immaculate set of stunning mid-century tables, the largest in the form of a tray.

Dimensions (largest) 51cm High x 39cm Deep x 80cm Wide

Price £775.00

'Trifoglio' Dining Table by Sergio Asti for Poltronova C1969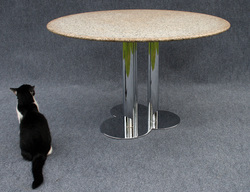 Very nice original table by Sergio Asti, the Montorfano Granite top in a Salmony pink colour on a chrome base. All in very good condition.

Dimensions
Diameter 122cms Height 76cms


Price £1500.00

---